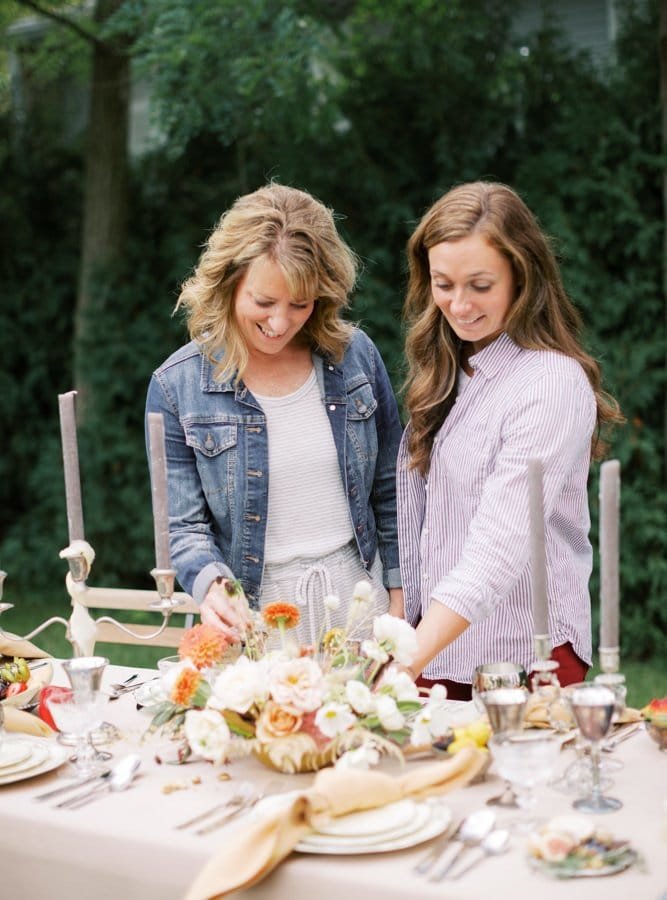 In September Leah and I had the great experience of attending a Florist in Bloom workshop in Lake Geneva.  It was a wonderful day spent with other creatives to learn from the featured florists and create a beautiful backdrop for a mock wedding.  Come along as I share some of the highlights from our day!
Leah and I traveled to Lake Geneva the night before and stayed where the workshop would take place, at the Maxwell Mansion.  We walked down to the Lake to grab a bite to eat before getting comfy and relaxing in our room.   The next morning we were welcomed by Rebecca with coffee and were given journals that had been personalized with our names and favorite flower to take notes in throughout the day.
The workshop began with a centerpiece demonstration from the talented Splendor of Eden.  Brie has such of gift of combining colors and textures to make the perfect bouquet.    After Brie's demonstration we were given the opportunity to choose stems from the display of beautiful blooms and dried stems to create our own centerpiece.  Once we finished, we were each given the opportunity to have it photographed alone and with the beautiful bride.
This day was such a treat after a year that has been filled with so many changes and cancellations.  It was such a joy to spend the day being inspired and creating beautiful things!
When I first signed up for this workshop I had bought 1 ticket for myself.  The week before I was to attend I received an email that said they had had a cancellation and there was an open spot.  Leah and I were working on a wedding at the time and I asked if she would like to go.  Within the next half hour we talked to her husband (my son), and he arranged childcare so she could attend with me.  It was so fun experiencing this workshop together!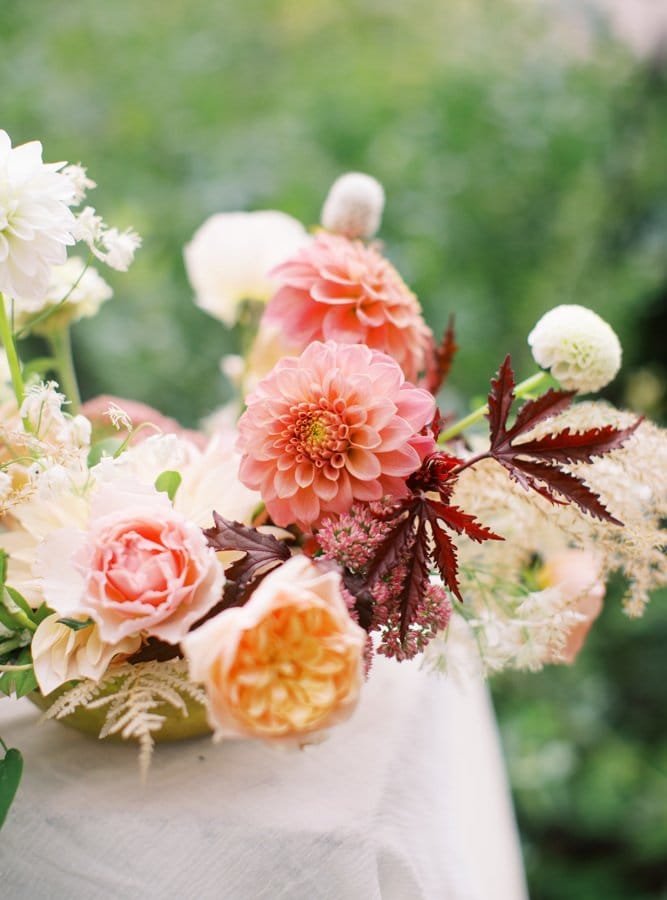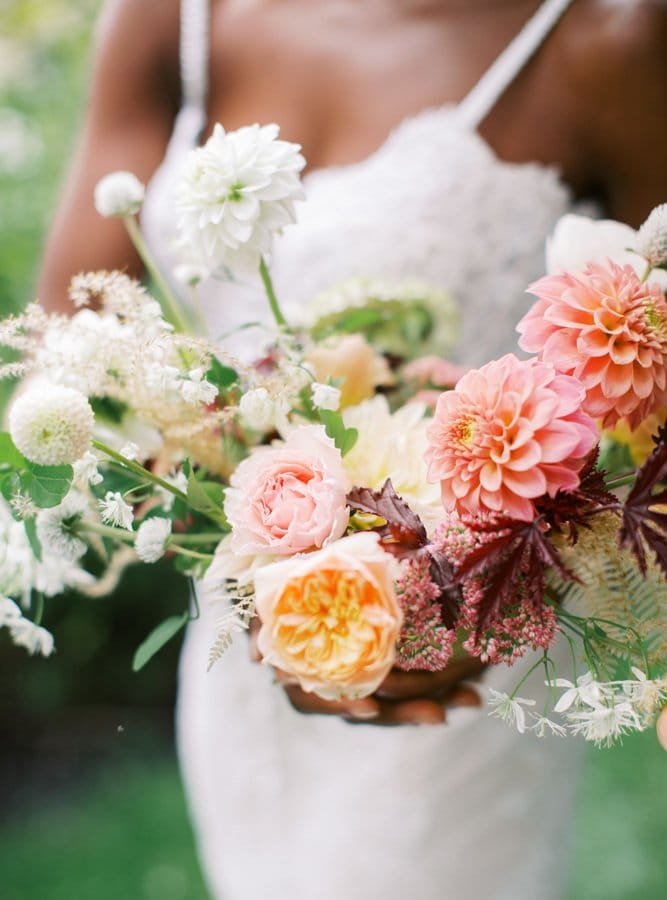 After our arrangements were photographed we all enjoyed a box lunch and time to sit out in the sunshine and get to know the other attendees.  It was fun to compare notes with the others about wedding set up, how they run their businesses, and their plans for the future.   For the afternoon session we were divided into two groups.  Leah was in group 1 and they designed an indoor intimate wedding ceremony. 
It was great that we could both experience a different set up and compare notes on the way home.  I love the romantic feel of this beautiful ceremony spot.
Group 2, which is the group that I was in, created a floral arch on the outside French doors of the mansion. 
Renee from Frontier Flowers of Fontana led our group, giving us tips behind the mechanics of this design.  A flower arch can add such an amazing statement piece to the day.
After the installations were complete we all gathered back inside to watch while Renee designed a bouquet and talked about how to price and figure costs on wedding bouquets, arrangements, and large scale designs.  Renee so generously shared her experience and expertise.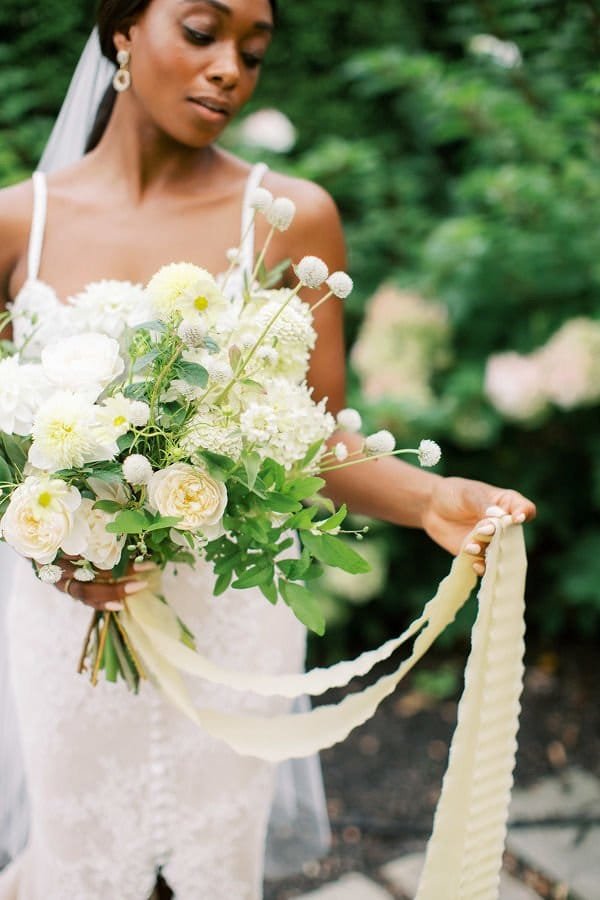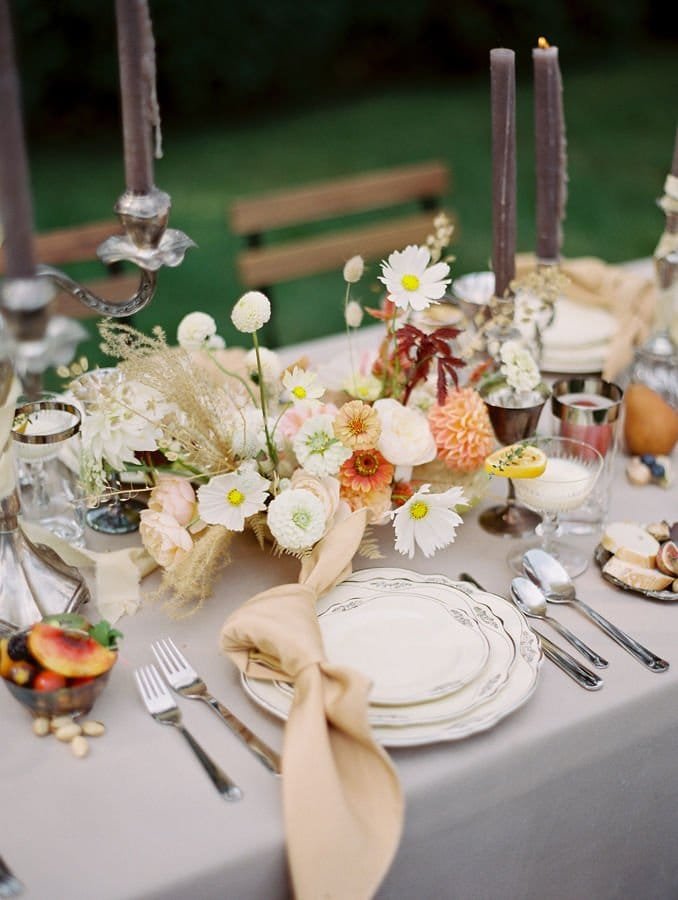 I came away with a new appreciation for the work that goes into putting a day like this together.   Attending a workshop is a big financial investment, but I now understand the many hands that it takes to make this day happen.  Thank you Rebecca for all the hard work that you put into making this day a success and thank you to everyone who had a part in this day!
creative direction: @relicsrentals & @bird_and_bumble
events: @floristinbloom & @relicsrentals
photographer: @jessicabedorephoto
day-of-coordinator: @etvoilaevents⁠
featured florists: @spendor_of_eden & @frontierflowersoffontana
boutonnières & tablescape: @spendor_of_eden
bar cart floral & botanical crowns: @bird_and_bumble
bridal bouquet: @frontierflowersoffontana
floral sponsors: @gracerosefarm & @thelocalflowertruck & @pineberry.and.co
rentals: ⁠@relicsrentals
linens: @windycitylinen
ribbon & styling cloth: @nativeribbon_co
stationary: ⁠@coquipaperie⁠
cake: @greigemke⁠
food styling: @forkitfoods
bridal gown: @strikebridalbar
shoes: @31philliplim
tux: @hhclothingco
jewelry: @ilboscomke
beauty: @melodysopaartistry
couple: @nancynorkeh & @jordan.m.jackson
destination: @maxwellmansion⁠
#floristinbloom #floristinbloom2020 #floristinbloomlakegeneva #floristinbloomsummerportfoliobuilderworkshop #relicsrentals #relicsexclusivesignatureevents #relicsstyler