There is something so special about watching a young girl grow up to be a confident, successful young lady.  I have had the privilege of  not only watching,  but also having a friendship with Jade as she navigated these years.  I must confess that I was a little skeptical when Phil entered the picture….was he the one and was he good enough 🙂
Jade gave me some suggestions of colors and her style, but then gave me creative freedom to choose flowers that I thought would be best.  This is something I do not take lightly…..when a bride places her trust in me it is an honor and a big responsibility!  I love that Jade added some memory charms of those that she holds near and dear to her heart to her bouquet.
I love the moody mauve/blush tones that complimented her variation of bridesmaid dresses beautifully!  This was such a fun group of girls!
I cannot say enough about the brides of 2020!  They had to make some difficult choices.  There were so many changes along the way and they had to give up so much of the dream of how they thought this day would look.  There were wedding showers that were minimized, or wedding showers that were virtual,  a guest list that had to be downsized, and always in the back of their minds was the fear that they or someone in the family could get sick and not be there for this important day.  A wedding is stressful to plan, but when you thrown all of these elements into the mix that stress level goes up several notches!
This September day turned out to be a beautiful day!  I have learned that through this crazy time the small intimate wedding that replaced the large reception they had planned could not of been more perfect!  When you are surrounded by those closest to you who love and support you that is all that you need!
I love this picture of Jade taking in all of the details that we added to their families barn venue.  Elmore Stock Farm is a rustic barn that was perfect for this intimate reception.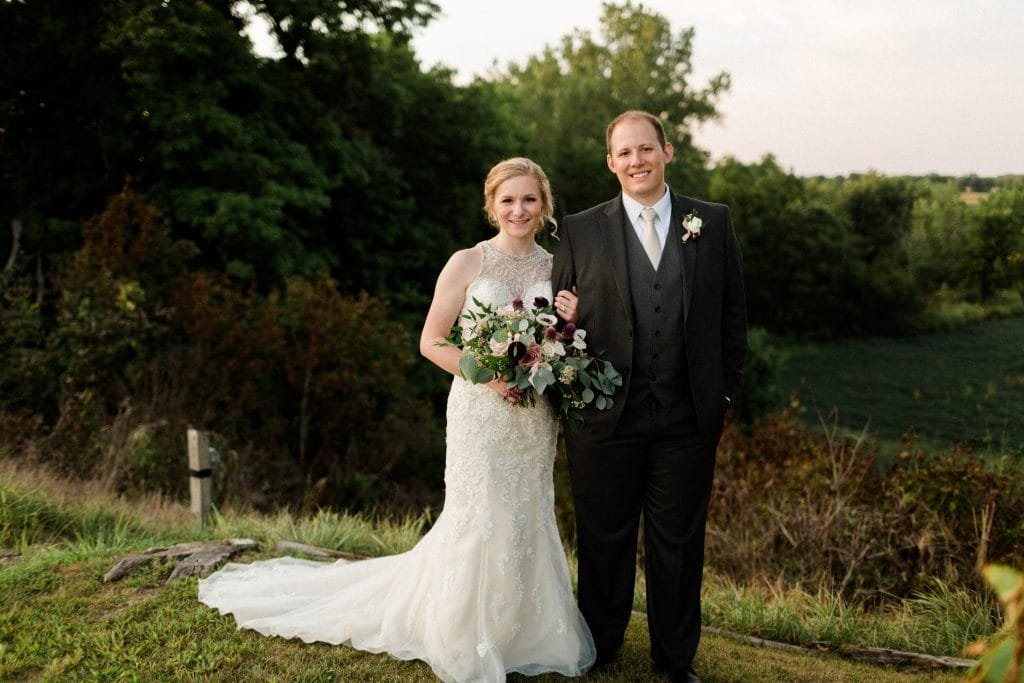 It was a pleasure to get to know Phil throughout the engagement and I can definitely say that he is perfect for Jade…and yes he is good enough!  I wish these two many happy years together and can't wait to follow their love story as the years go by!
Phil and Jade are planning a larger celebration with all their family and friends in July of 2021.  We are hopeful that next year will have some normalcy that 2020 lacked.  If 2020 has taught us anything that is to hold loosely to the plans we make!