I got to know Lauren when my daughter became friends with her during her college years.  The friendship that these girls share is special and has only grown stronger as they each have taken different jobs and life has taken them different directions.  It was such an honor to be a part of this special day for Cass and Lauren!
Lauren's bouquet and centerpieces were filled with lots of yummy fall colors and textures that make a fall wedding so special!  I loved everything about Lauren's vision for her day and appreciated that she trusted me enough to give me free reign on all the details!
Lauren's bouquet was filled with caramel garden roses, quicksand roses, majolica spray roses, astillbe, scabiosa, scabiosa pods and a mix of several greens and bunny tail grass.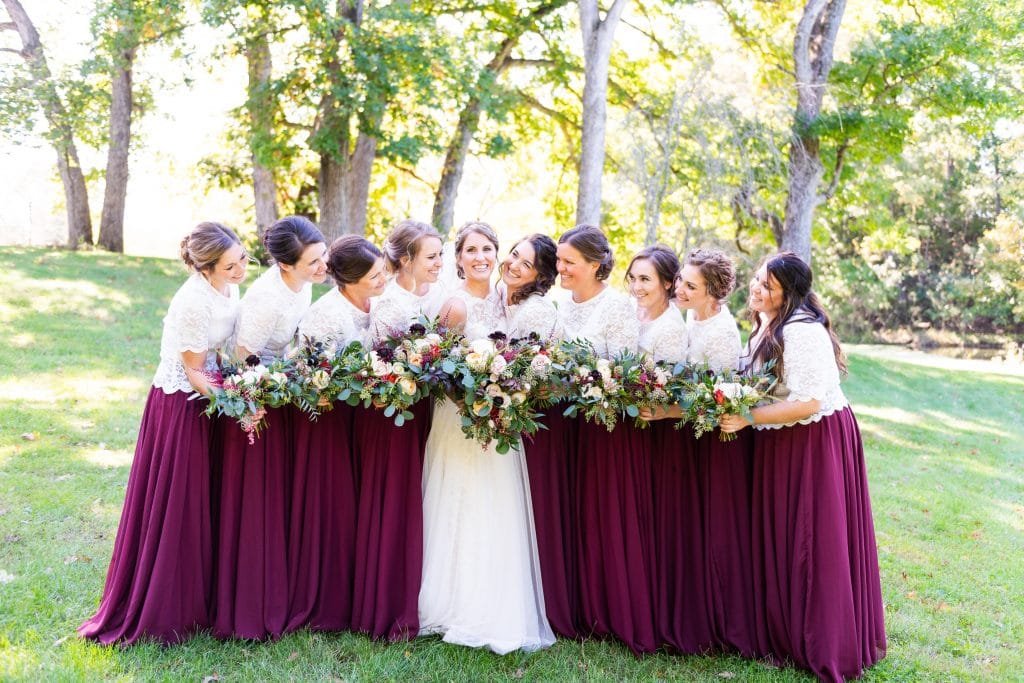 The bridesmaids carried a downsized bouquet that complimented Lauren's bouquet.
Lauren chose 4 different centerpieces and we incorporated beautiful fruits in the rich colors of fall.  We use deep purple eggplant, clusters of grapes, plums,  golden pears, pomegranates cut in half to expose the colorful flesh and seeds, ornamental kale, and artichoke that added so much texture.
Brass  candlesticks with a mix of beautiful fruits and artichoke around the base.  We used candles in Lauren's colors of sage green, burgundy and mauve.
To add height to the big room floral arrangements on whitewashed wood pillars were the perfect touch.  We used garden picked hydrangeas that were turning in color to display perfect fall colors.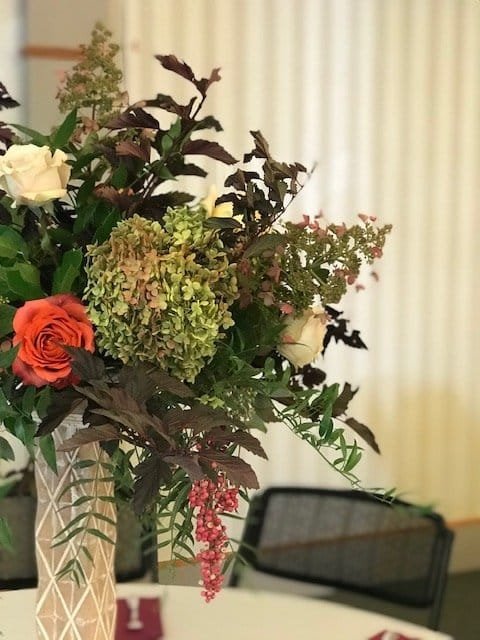 Lauren wanted to incorporate the bridesmaids bouquets into some of the centerpieces which is a great way to get dual purpose out of the wedding party flowers.  We used our gold mercury vases on wood rounds with the addition of seeded eucalyptus and fruits.
The last centerpiece were gold lanterns with greens and ornamental kale.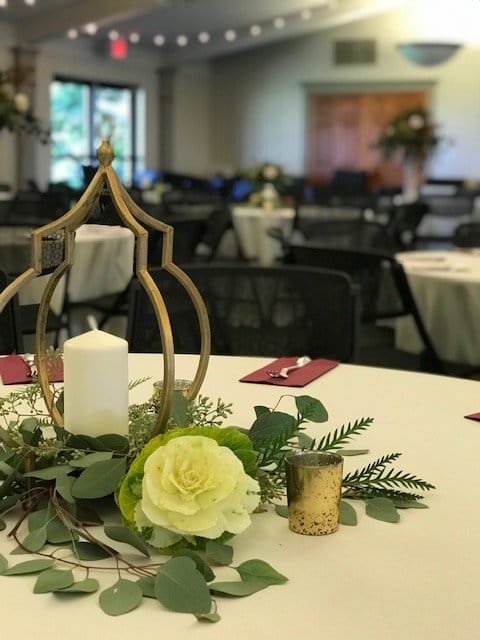 Lauren's mom had the coolest long antique dough bowl that we used to anchor the center of the food table.  We filled this bowl with dried hydrangeas, ornamental kale,  and eggplant.
The cake was made and decorated by Caleri's Bakery where Lauren used to work. 
Lauren's reception had the perfect touch of old and new that added to this fall celebration.   Each wedding should be a reflection of the bride and groom.  Congratulations Cass and Lauren.  Thank you so much for giving me the opportunity to bring your vision into reality!